Welcome to 15 Invaluable Laws of Growth
John C. Maxwell says in order to reach your potential, you must be intentional about personal growth. This training curriculum will help you understand how personal growth really works, and how you can develop yourself to become a more effective and fulfilled individual. You will learn how to build up your sense of purpose and become more successful in every area of your life. We are delighted to come alongside you in your growth journey to become the person you are destined to be!
THIS IS A 5 WEEK VIRTUAL MASTERMIND GROUP …ALL YOU NEED IS A PHONE LINE OR PC/LAPTOP/BOOK
It's so exciting because as a group, our ideas, our opinions, and our personal experiences along with accountability, we shape and mold our understanding of the material for practical application in a way that is far superior to simply reading a book on your own. You will walk away feeling more empowered to live a victorious life.
With a minimal investment of $59.99 you get to learn and grow with a group of like-minded, motivated individuals, working towards the same goal of personal growth and freedom. Hey, why not invite or gift someone to join you? Why not sponsor someone you think would benefit?
Key Benefits of a Mastermind Group:
Increase your own experience and confidence

Sharpen your business and personal skills

Add an instant and valuable support network

Get honest feedback, advice and brainstorming

Borrow on the experience and skills of the other members

Study Leadership, Communications and Growth principles/practices in a group setting, create an action plan and have the group hold you accountable for fulfilling your plan and goals.

Receive critical insights into yourself

Optimistic peer support in maintaining a positive mental attitude

A sense of shared endeavor – there are others out there!
Did I mention….THIS IS A VIRTUAL MASTERMIND GROUP …ALL YOU NEED IS A PHONE LINE OR PC/LAPTOP/BOOK – Grab a cup of coffee and let's GROW
Next 5

 week

Session Starts: 
THURSDAY

, June 14, 2018 – July 12, 2018
6:00

P.M

. CST – 7:30 P.M. CST
Participants are responsible to purchase their own books –  The Book 15 Invaluable Laws of Growth by John Maxwell. You can purchase online…last checked Amazon had paperback for approximately $10.49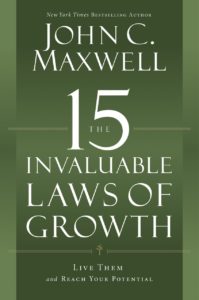 Are You Ready to Grow? – Let's go!