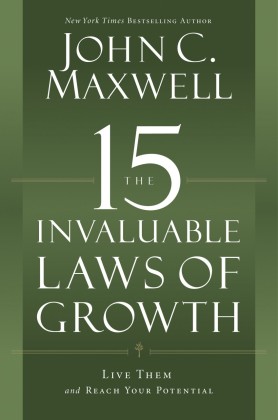 15 Invaluable Laws of Growth
Product Description:
This training curriculum will help you understand how personal growth really works, and how you can develop yourself to become a more effective and fulfilled individual. You will learn how to build up your sense of purpose and become more successful in every area of your life.
Lessons:
The Law of Intentionality – Growth doesn't just happen.  You must be intentional about your growth.
The Law of the Mirror – You must see value in yourself to add value to yourself.
The Law of Awareness – You must know yourself to grow yourself.
The Law of Consistency – Motivation gets you going – Discipline keeps you growing.
The Law of Environment – Growth thrives in conducive surroundings.
The Law of Design – To maximize growth, develop strategies.
The Law of Pain – Good management of bad experiences leads to great growth.
The Law of Reflection – Learning to pause allows growth to catch up with you.
The Law of the Ladder – Character growth determines the height of your personal growth.
The Law of the Rubber Band – Growth stops when you lose the tension between where you are and where you could be.
The Law of the Trade Offs – You have to give up to grow up.
The Law of Curiosity – Growth is driven by wanting to learn more.
The Law of Modeling – It's hard to improve when you have no one but yourself to follow.
The Law of Expansion – Growth always increases your capacity.
The Law of Contribution – Growing yourself enables you to grow others.
Inclusions:
15 Audio lessons
Participant workbook